Get Summer Vacation Ideas With These 15 Apps and Websites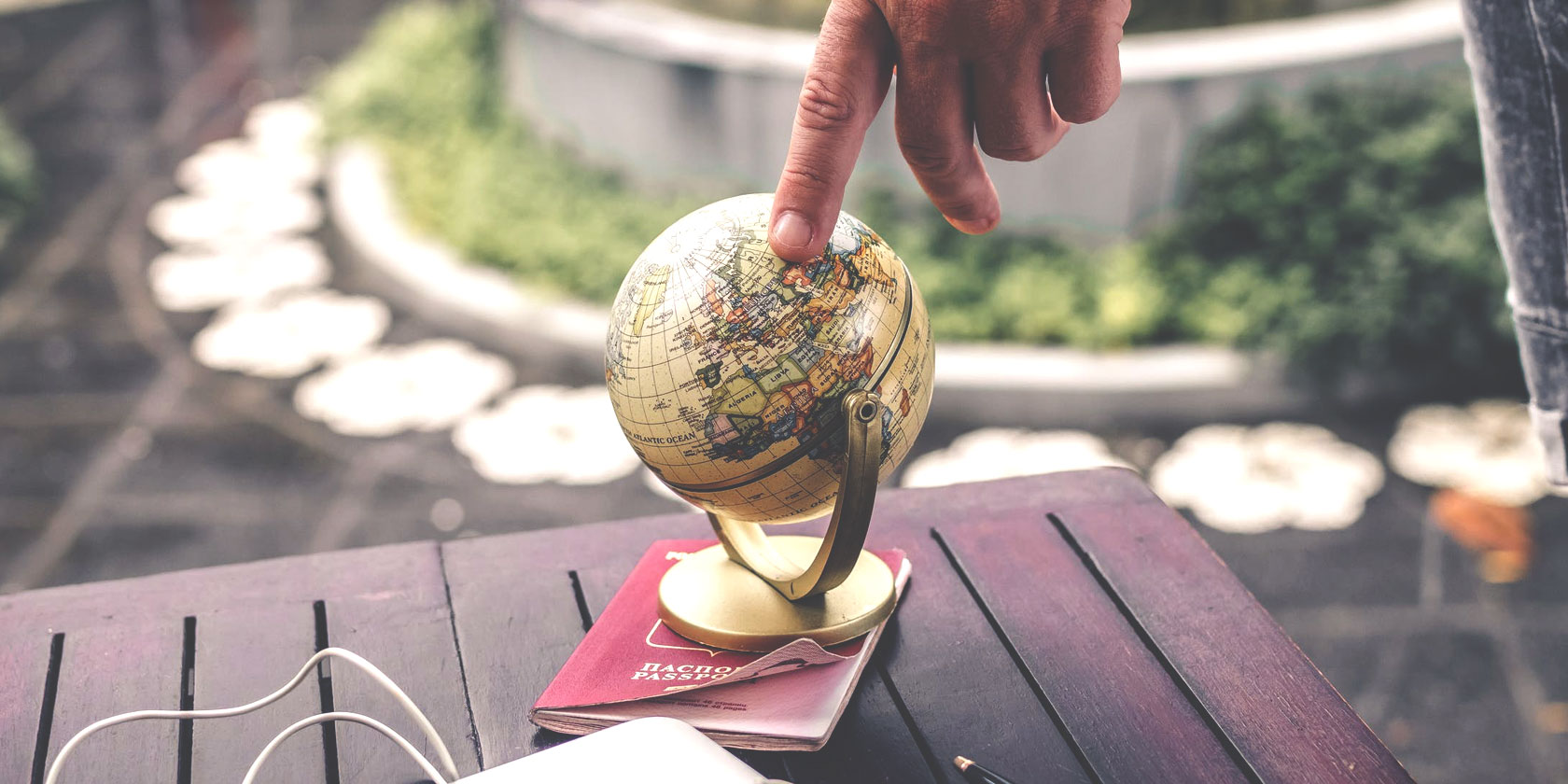 The smell of barbeques and sun cream filling the air can only mean one thing: summer is finally upon us. For millions of people, it's also time to get out of the city for a few days. But first, start jogging your brain for summer vacation ideas.
If you've not booked a vacation yet, you're running out of time. So, what are you waiting for? Use one of these 15 apps and websites to find the inspiration for your perfect getaway (or go somewhere entirely random).
Available on: Web, Android, iOS
Cruises are renowned for selling out well in advance, but that doesn't mean you can't bag a cheap last-minute deal if you know where to look.
iCruise works with all the leading cruise operators (including Carnival, Cunard, Princess, Regent Seven Seas, and Royal Caribbean) to offer trips to Alaska, the Bahamas, Bermuda, the Caribbean, Hawaii, Europe, and the Panama Canal.
To find your perfect trip, head straight to the Advanced Cruise Search. It lets you filter by duration, destination, cruise operator, and date.
Download: iCruise for Android | iOS (Free)
Available on: Web
Travel and Leisure is one of the largest travel sites on the web. It publishes several articles a week, all of which are guaranteed to fill you with summer vacation ideas.
Make sure you check out the site's World's Best section. Ten minutes of browsing will provide enough ideas for a lifetime of vacations.
It's also worth spending some time browsing the Trip Ideas section. As the name suggests, it's packed with ideas that'll help you come up with the right holiday to suit your passions. All the recommendations are packaged into neat categories for easy perusal.
Available on: Android, iOS, Chrome
When you're booking a flight, it's notoriously difficult to know whether you're getting a good deal. The prices change as often as the wind. Thankfully, it isn't that difficult to find and score cheap airline tickets.
But Hitlist makes our list thanks to its innovative Explore Lists. You can add destinations you'd like to visit, and you'll receive a notification as soon as the price drops.
There's also an interest-based flight search engine. Tell the app the types of activities you enjoy doing, and Hitlist will recommend destinations and flight plans to match.
Also, make sure you check out the company's Wandertab Chrome extension. It replaces Chrome's new tab page with a photo of a stunning location somewhere on Earth, along with how much it would cost to get there.
Download: Hitlist for Android | iOS (Free, offers in-app purchases)
Available on: Web
As any dog owner knows, it's hard to plan a trip if you're planning to take the family pet with you. Hotels and restaurants aren't very forthcoming with the necessary information.
BringFido will show you dog-friendly accommodations, activities, and eateries for your destination of choice. It can even help you find a local pet sitter or dog walker.
You can also add their Android (and iOS apps) to the list of the best Android apps for dog lovers.
5. Google Trips
Available on: Android, iOS
One of the lesser-known apps of Google's collection, Google Trips is the ultimate trip-planning companion.
Plug in your reservations, travel tickets, and other relevant information, and the app will automatically plan your days for you. All the data is available offline; you won't get hit with an unexpected roaming bill when you get home.
Download: Google Trips for Android | iOS (Free)
Available on: Web, Android, iOS
Skiplagged specializes in finding "hidden city" trips.
A hidden city trip involves not boarding the last leg of a multi-stop flight. For example, if you're traveling from New York to Dallas, a direct flight might be $ 300 while a flight from New York to Los Angeles with a stopover in Dallas might only be $ 200. The app will show you both options.
Download: Skiplagged for Android | iOS (Free)
Available on: Web
Fancy a stay in a luxury hotel for a fraction of the advertised price? Check out SecretEscapes. It offers last minute deals in upscale resorts for as much as 70 percent off.
The site will even suggest tips and ideas based on the day's hottest deals.
Available on: Web
One of the best ways to see a country is on two wheels. You can get to places that are inaccessible by car and too far away on foot.
So, if you're looking for some two-wheel based travel ideas, check out Western Spirit. It offers trips across multiple ability levels for families, couples, and individuals. Trips are available across the US.
Available on: Web, Android, iOS
Localeur offers recommendations from locals in more than 80 global cities. It will help you find the best places to eat, drink, sleep, and visit while you're in a new land. Reading localized reviews is a great way to inspire a few vacation ideas.
If you hate the usual tourist trips, give this app/website a try.
Download: Localeur for Android | iOS (Free)
Available on: Android, iOS
Jetzy is another app that wants to give you summer vacation ideas. This time, it uses recommendations from other travelers rather than locals.
Most of the recommendations revolve around travel, food, entertainment, wellness, and lifestyle experiences.
Download: Jetzy for Android | iOS (Free)
Available on: Web
TimeOut is a print and web-based magazine that offers city guides for more than 40 destinations around the world.
For example, the Barcelona section offers articles on everything from the best parks for kids to a neighborhood-by-neighborhood analysis of activities.
If you want a city trip but you're struggling to pin down your destination, a browse on TimeOut will definitely help.
Available on: Web, Android, iOS
Vacations don't have to involve getting on a plane or boat. Most people have barely scratched the surface of the treasures to be found in their own country.
So, why not hit the highway this summer and plan the road trip of a lifetime? The Roadtrippers app will show you everything from local diners and roadside attractions to scenic points and national parks across hundreds of suggested trips.
The website offers advanced search features and a fantastic trip guides section. It's divided into inspirational sections such as Camping and Road Trips, Scenic Drives, Classic American Trips, and Destination Guides.
Download: Roadtrippers for Android | iOS (Free)
Available on: Web, Android, iOS
Do you like taking a dip in the ocean while you're away? If you do, you'll want to make sure the water is clean in your proposed destination before you book anything.
Swim Guide provides live water quality information for 7,000 beaches, lakes, rivers in Canada, the US, Mexico, the Bahamas, Australia, and New Zealand.
The app is run by Lake Ontario Waterkeeper, who also offers a drinking water guide so you can make sure you don't unwittingly pick up a waterborne virus while you're away.
Download: Swim Guide for Android | iOS (Free)
Available on: Web
Trekaroo offers family summer vacation ideas in the United States, the UK, Italy, France, Mexico, and the Caribbean.
Scroll down the website's homepage, and you will see categories such as "Funky Fun Hotels Your Kids Will Never Forget," "Wonderful Places to Enjoy Spring Flowers with Kids," and "Take Learning on The Road!" Each section is packed with ideas.
15. Winnie
Available on: Android, iOS
Traveling with young children can be a challenge. Toddlers are not easy to entertain and, depending on their age, you might need changing facilities, playgrounds, family-friendly restaurants, and so on.
Winnie helps you come up with summer vacation ideas by showing you which places meet your family's needs.
Download: Winnie for Android | iOS (Free)
Got a Few Summer Vacation Ideas Yet?
Hopefully, these apps and sites will give you the inspiration you need to decide on your perfect summer vacation.
If you're struggling, we've covered some of the best sites for last-minute travel deals. And don't forget to download a few travel apps before you leave—there are lots worth checking out!
Read the full article: Get Summer Vacation Ideas With These 15 Apps and Websites