Sony Xperia XZ2 Review: Fantastic Camera, Unique Design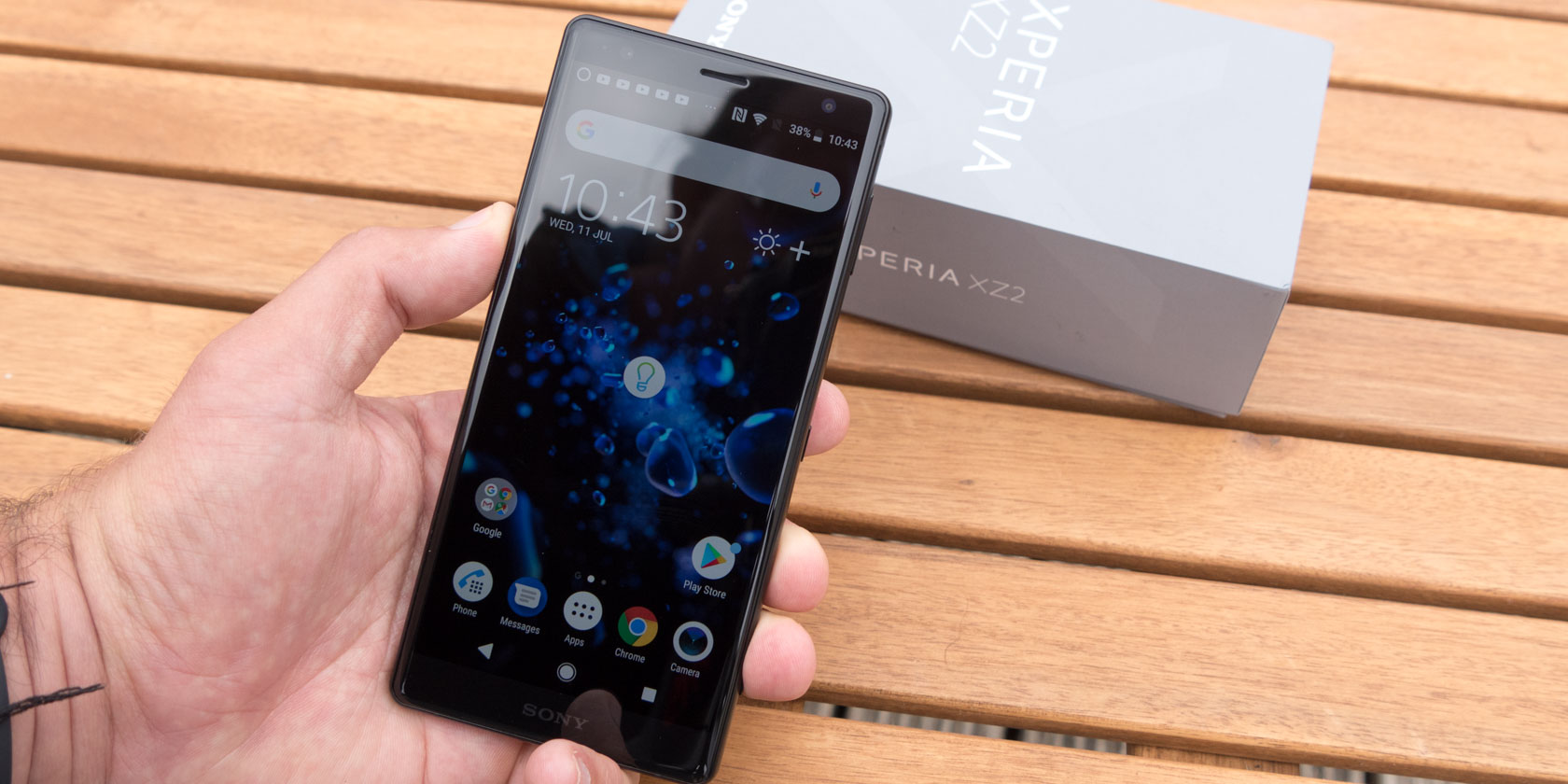 Our verdict of the

Sony Xperia XZ2

:
A stunning camera with 1080p super slow motion and 4K HDR video recording, as well as a gorgeous HDR screen. Top notch performance and battery life make this a fantastic device for anyone: but only if you can get past the dated and awkward design.
Sony's latest flagship is their fastest yet with a slew of new features and an unrivalled camera; but the design is also a dramatic change. You'll either love the Xperia XZ2, or hate it.
Let's take a closer look, and at end the of this review, courtesy of Sony, we have one to give away to one lucky reader. Read on to find out how to win!
Design and Specifications
Sony Xperia XZ2 Unlocked Smarphone – Dual SIM – 5.7″ Screen – 64GB – Liquid Black (US Warranty) Sony Xperia XZ2 Unlocked Smarphone – Dual SIM – 5.7″ Screen – 64GB – Liquid Black (US Warranty) Buy Now At Amazon $ 739.99
The Xperia XZ2 is available in silver, blue, or black (as reviewed). In terms of specifications, there's nothing too surprising here from a flagship device:
Snapdragon 845 CPU
4GB RAM, 64GB storage
Full HD+ HDR 5.7″ display
Dual SIM / Micro-SD expansion port
USB-C port, with fast charger included
NFC and wireless charging
Ear buds and 3.5mm audio jack to USB-C adaptor included
F2.0 19MP rear camera, 5MP F2.2 front camera
Featuring a gorgeous 5.7″ display that we'll discuss in more detail later, you'll also note it isn't an edge-to-edge design. There's a few millimeters of bezel on both the left and right, with a centimeter or so at the top and bottom. At least there's no notch, either.
With a curved glass rear and metal rim, it's quite heavy at 6.98oz (198g), and a little chunky. The glass back means you have wireless charging and NFC, which is a necessity in any phone nowadays, and I'd be more surprised by its absence. A wireless charger isn't included though, so you'll need to buy your own. However, the pronounced curve also leads to the device being quite unstable on a flat surface. With so little contact area, it tends to slide around a lot. Given the propensity for the glass to pick up fingerprints anyway, you'll almost certainly want to slap a case on this, preferably a somewhat sticky rubber one to stop it running away so much.
Button placement is unique, too. There's volume rocker, power button, and a dedicated camera shutter, all situated along the right hand side of the frame from top to bottom respectively.
As far as dedicated buttons go, a camera shutter button is going to be universally appreciated. Unlike a Bixby personal assistant button. However, I think there's a reason that most manufacturers put all of the buttons toward the top: it stops you accidentally pressing them when gripping the phone.
The only port you'll find is a type-C on the base of the phone; there is no headphone jack. However, Sony includes a type-C to headphone adaptor in the box, as well as a set of ear buds with inline remote and spare rubber fittings. The lack of headphone port on the device will likely be a sore point for some.
The supplied headphones aren't bad at all: they sound and feel much better than the horrid things Apple supplies.
One small feature you might appreciate: pulling out the SIM tray doesn't require rummaging around the drawers for one of those pokey things. Just use your fingernail to slide it out.
Is That a Fingerprint Sensor, Or a Camera Lens?
As you'd expect from a flagship device, the fingerprint reader is fast and accurate. But the sensor placement right smack in the center of the back panel feels awkward, and I did on occasion find myself wondering why it wasn't working. It wasn't working because my finger was placed on the camera lens instead, which feels exactly the same and is located where other phones would normally put their fingerprint sensors–about an inch above.
I bet you're thinking: I wouldn't be like that silly James, I think I can handle putting my finger in exactly the right place, thank you very much! But you will. And then you'll turn the phone around and wonder for a few brief seconds if it's broken.
Full HD+ HDR IPS Display
That's a lot of acronyms, so let's break it down. The screen is 5.7″ wide in a 16:9 format, perfect for movies. The resolution is Full HD+, which means 2160 x 1080 pixels. The + signifies "slightly higher than full HD", which is 1920 x 1080 px or more commonly known as 1080p. You'll have to wait for the Premium model if you want a 4K screen, but I'd question if you really need such a high resolution on such a small display. On a 60-inch TV, sure, 4K is glorious. On a 5.7″ mobile screen, it just doesn't matter and you'll be taking a performance hit.
The IPS-based TRILUMINOS display boasts the ability to show HDR content, which includes a wider gamut of colors, resulting in blacker blacks and a more saturated look (What is HDR?). Both YouTube and Netflix officially offer HDR encoded content, but the Xperia XZ2 also attempts to up-convert other content to near-HDR levels of color.
If you're coming from an older device, you'll definitely appreciate the HDR display more than you would a 4K resolution bump.
Setup and Updates
Upon setting up the device, you'll have the option to install some default apps:
Bokeh background blur
News Suite
PlayStation App
Movie Creator
Sketch – Draw and Paint
AR Effect
Video and TV Sideview: Remote
In addition to those listed, you'll also find some other apps pre-installed on the device that aren't optional, presumably because these are hardcoded into the firmware. These include: 3DCreator (a natty attempt to make 3D models with just the camera), Xperia Lounge, Xperia Assist, AVG Protection, Kobo Books, Facebook, and a selection of Amazon Apps. Not being able to uninstall AVG was a little frustrating given that its insistence on making you pay for a subscription is worse than the most pervasive malware I can imagine, but at least it can be disabled.
After the initial setup, I was greeted by no less than four successive OTA updates, as well as prompts to install the companion software. Frequent updates are certainly a good thing, but it would been nice if they had been rolled into a single update, even a bigger download, than four separate installs requiring a restart each time.
The Xperia Companion app for your Mac or PC is quite useful, duplicating the often buggy Android File Transfer, as well as offering complete backup, migration tools, and media management.
960FPS, 4K HDR, and Photo Quality
One of the most outstanding features of the original Xperia XZ Premium was the 960 frames per second slow motion film mode. However, it was limited to 720p, and that's now been increased to 1080p Full HD in the Xperia XZ2. You can capture some fun footage and it surpasses the 120FPS modes on other high end phones. It's far from perfect though. Even in good light the slow motion footage comes out a little grainy. In low light, the mode is unusable.
Standard video recording is much better, and produces 4K HDR footage: that's a world first in a mobile device. You can see a short example of the 4K HDR footage below taken straight from the camera, but be sure to watch in full quality on an HDR compatible device.
Photos seem to equally benefit from a greatest range of colors, though never felt overly saturated. You can make your own mind up though with these comparison shots. All photos were taken using automatic modes, with no post-processing.
Outdoor shots weren't hugely different, but the green in the bushes behind looks a little deeper.
Since photographing your food for Instagram might be a primary use case, here's some pot-stickers, taken on the same day but indoors.
This macro shot was taken with a little less light again.
This last comparison is from late evening with the sun about to set, and very much what I would define as low light. I wasn't expecting either camera to do well, but you can clearly see the greater contrast from the XZ2.
I'd struggle to call either camera objectively better, though the XZ2 did tend to have a greater range of colors and higher contrast. Zooming into the photos revealed greater detail was captured by the iPhone, but I tended to prefer the shots from the Xperia overall.
Dynamic Vibration
You know how your phone feels like it vibrates a little when it's really loud? The unique Dynamic Vibration feature turns that up to 11, and use haptic motors to enhance sound output, with a choice of three levels of vibration strength. It's a fun feature for a moment or two, then you'll probably turn it off. Apart from not really adding much to the experience of listening to music or watching videos, it tends to make the phone move by itself when set on a flat surface.
What I was really hoping I could write about was how much more immersive it felt when playing games, like PUBG. Unfortunately, I can't write that because it didn't work with PUBG. Sony has said that the feature should work with anything which runs through the standard "Android sound path", but there's no API for developers to hook directly into it, which seems like a missed trick. To be clear, some games work, like Angry Birds, but you're probably not interested in that.
Google Assistant (and Xperia Assist)
An integral part of the Android 8 is the Google Assistant shortcut in the center button. Long press on this to open the Assistant, where you can then interact to search the web, ask facts, or control your smart home. It's great to see this experience hasn't been ruined in favor of a custom shortcut; everything is as you'd expect.
Somewhat confusingly, Xperia Assist is also a thing that can be launched from the lightbulb icon on the main screen. However, it isn't a custom voice assistant like Bixby. The Xperia Assist is a help system disguised as a chat bot, though you can only interact by pressing predefined responses. I actually found it quite helpful for learning about various features, and things like wallpaper settings can be selected from directly inside the app.
UI and Performance
Under the hood is an almost stock Android 8 user interface, which is very much welcome. As expected from a flagship phone, it was blazingly fast, and I experienced no slowdown, anywhere.
Performance testing with Geekbench gave it a single core score of 2387, multicore of 8164, and Renderscript computer score of 13833. Antutu gave it a crowd pleasing 266082, making it the 5th fastest phone in existence at the time of writing. PUBG ran buttery smooth on high quality settings. You can see some laughably bad footage of me playing in the review video.
It's fast, ok?
Battery
Lastly, there's a 3180mAh battery. With full brightness and heavy testing, we managed an average 5-6 hours of screen time, which isn't bad. What's even more impressive was the intelligent power management that meant only 5-8% was lost overnight. We sat the phone down for a week and still had 50% battery left.
The XZ2 also comes with a fast USB-C charger, capable of pushing out 19V. This results in a fully charged phone from flat in just over an hour.
On top of that, Sony have developed a system that learns your usual wake up time. It then delays fully charging the phone until shortly before you wake up. This avoids keeping it fully charged and plugged in overnight, which can damage the lifespan of the battery over time. Clearly this is difficult for us to judge, but if true, that's a very neat feature.
Should You Buy the Sony Xperia XZ2?
Since you've got this far, I'll assume you're keen on the design on the phone. If anything was going to put you off, it would have been that. The biggest design flaw is how it's just so unstable on flat surfaces. You'll be constantly worried about it falling off of its own accord. It's an easy fix with a rubber case, but shouldn't be needed. Design commentary aside though: this is Sony's fastest device yet. It's a flagship phone with no compromises on performance, and an almost stock Android experience.
If you're coming from a non-HDR device, it's the screen quality that should really capture your attention. Even playing non-HDR content, everything looks fabulous. Visuals are bright, crisp, with a full range of colors and true black. The Dynamic Vibration can be an immersive feature, but only in compatible games.
Sony Xperia XZ2 Unlocked Smarphone – Dual SIM – 5.7″ Screen – 64GB – Liquid Black (US Warranty) Sony Xperia XZ2 Unlocked Smarphone – Dual SIM – 5.7″ Screen – 64GB – Liquid Black (US Warranty) Buy Now At Amazon $ 739.99
The camera is top notch, and right now it's the only smartphone that's capable of recording 4K HDR video. The 960FPS super-slow motion is another feature unique to Sony devices, though you'll need to time it right. You won't be disappointed by the photographic or video features of the Xperia XZ2, that's for certain.
Overall, it's a fantastic device if you can just get over the design.
Enter the Competition!
Read the full article: Sony Xperia XZ2 Review: Fantastic Camera, Unique Design